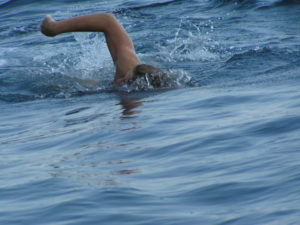 Mike has been a runner and cyclist for many years and has often entered competitions, however recently it was suggested he try his hand at Triathlons and started practicing at his local swimming pool. Unfortunately for Mike he found he was claustrophobic, being in a swimming pool made him feel anxious, he hated getting his head under the water and kept stopping to see where he was. When he got to the end of a lane he couldn't just launch himself back. He was having swimming lessons, but the anxiety just wouldn't go away, so he turned to me.
"Can you do anything that can help?" "Yes!" I exclaimed, "I can help scramble the feelings of fear and create a virtual swimming pond for you, so you can practice in trance." I explained about how the brain couldn't tell the difference between real and imagined and about the work done with sportsmen and women around visualisation. I also explained how the brain monitors our body posture and we can make ourselves feel more confident just by changing how we stand.
I gave him a CD to listen to as he slept at night, which would help him relax more and feel more positive. We did quite a few visualisations floating in water, calm and steady and I used the NLP technique of the Rewind to help him scramble the fear messages.
Over the period of 4 weeks we went over and over him swimming around the lake feeling calm, confident and in control. I taught him some mindfulness techniques to practice when he was competing and after week 4 I asked him to try out the work, which we had done. Here is his email he sent me.
"Hi Penny. since seeing you last i have started my lake swimming, with 3 visits under my belt. First swim 1 lap in fastest time yet – feeling more relaxed. Second visit 6am 1 lap in faster time still…relaxed earlier into swim. Third swim today, 1 lap in even faster time, quick rest and stretching out cramp. A second lap, which I have never done in, same visit before! Still in a good time and pretty much continual swimming. So happy to say that mission pretty much accomplished, today i was relaxed, didn't keep stopping, no breathlessness and even managed to let my mind wander to other things whilst swimming.    Thank you so much for your help, bit by bit things have fell into place. Already I find myself thinking what was all the fuss about!!    thanks again, will be back again if i think my claustrophobia starts causing me problems. Regards Mike."
Another happy customer, and one who responded very quickly and easily to hypnosis and the other tools and techniques I teach sports people to achieve more.
If you would like to improve your sports, you don't need to be in Abingdon or Oxford, I also do these sessions on Skype. Sports is my favourite area in which to work as I love motivating people. From 9 to 90, age isn't a concern, if you have a block or need a boost I can help. Call 07508 658934 or go to https://www.oxford-hypnotherapy.co.uk.