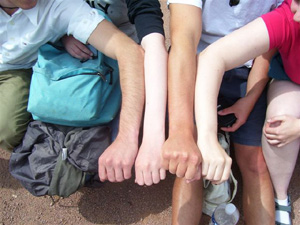 Eczema is also known as dermatitis and is a dry skin condition. It is a highly individual condition which varies from person to person and comes in many different forms, In mild cases of eczema, the skin is itchy, dry, red and scaly. It is not contagious so you cannot catch it from someone else.
It can happen at any time in one's life, childhood being more likely and can be caused by a whole variety of things, from stress to contact with chemicals.
The usual treatment for eczema are steroid creams, these make the skin thin over time, so should be used in small quantities.
Emollients prevent the skin from becoming dry and You can apply them as often as you need, 2-3 times a day or more if your skin becomes very dry and can prevent eczema from flaring up, as can keeping cool.
Reducing stress can significantly reduce the inflammation, and hypnotherapy can help the process, reducing flare-ups too.
After a particular stressful time, I started to suffer with eczema, but it cleared up to almost nothing after about 5 sessions of hypnotherapy. It only reappeared when I went to Singapore, and the heat flared it up. On leaving the hot moist environment, the eczema calmed down again, and I only need to put emollient on one hand now, on occassions.
If you would like an informal chat about what you would like to achieve, then call or if I'm in clinic and can't answer my calls, then text Hypno to 07508 658934 or email solutionshypno(AT)yahoo.co.uk, replacing the (AT) with @.
If you would like to read a case study please email me and I'll send you "10 years on the couch".
---
Penny Ling is a widely experienced hypnotherapist who has worked with everyone from top executives to stroke victims since 2007. She has been editor of Hypnotherapy Today Magazine and is a supervisor and mentor for members of the AfSFH and NCH.
Read Penny's inspiring story "How I beat all my phobias", or find out more how hypnotherapy could help your problem by downloading "How Solution Focused Hypnotherapy can help with life". Feel free to send Penny a message here.
---