Hypnotherapy & Talking Therapies in Bampton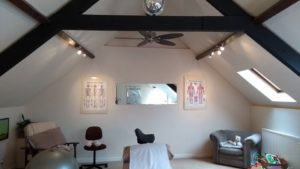 Bampton is a Village not far from Witney, Brize Norton and Carterton. Most people may recognise it as the village of Downton Abbey, with the Library being the setting for Downton Cottage Hospital.
Address of The Bampton Clinic
Moonraker Lane, Bampton, Oxon, OX14 2JH.
Directions from Witney
Take the A4095 Curbridge Road out of Witney, at the junction of Station Road turn left (Brize Norton is right)
This takes you straight into town. When you get to the centre, there is a small car park on your left. If that is full, there is usually plenty of parking on the streets around. The Clinic is found in Moonraker lane, next to the coffee shop opposite the main car park.
Directions from Brize Norton
Take Station Rd directly to Bampton, you then join the A4095 and follow as instructed above.
Directions from Faringdon
You can either use the A420 to the Buckland (Tadpole Bridge) turn on your left, then the road goes straight to Bampton, as you enter the village carry on straight to the market place and car parking is on your right.
If you travel down the Radcot Road, through Clanfield, then turn right at Clanfield, travel all the way to the centre of town. You can either take the left or the right as the car park has entrances on both sides.
Times and days for The Hypnotherapy & Talking Therapies Clinic in Bampton
Friday 1pm – 5pm
Monday 1pm – 7pm
* depending on availability, other times and days may be available, it's best to check with me or the clinic.
http://www.bamptonclinic.co.uk/